ACTION CENTER | TELL EPA: DON'T NUKE THE CLIMATE!
Tell EPA: "Don't Nuke the Climate!"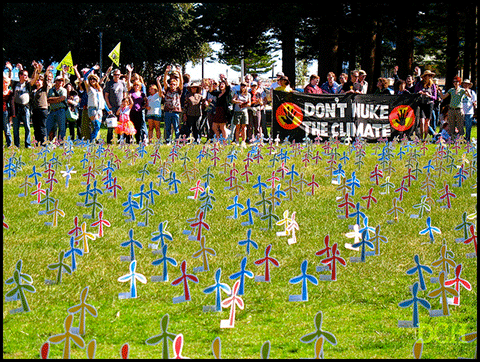 The U.S. Environmental Protection Agency (EPA) is undertaking historic action to limit carbon in the Earth's atmosphere. Humans are in a race against time to curb the emissions spewing into the air, mostly from energy production, in time to prevent catastrophic changes to our home planet's climate.
The deadline to comment on the EPA's draft rule is TODAY, December 1, 2014. Tell the EPA: "Don't Nuke the Climate!"
Environmentalists are praising the EPA's initiative and industries are doing everything in their power to prevent needed change to their environmentally destructive practices: extracting and burning fossil fuels and uranium from deep within the Earth, while ignoring the power of the wind and the sun which grace the surface of our life-sustaining planet.
The letter below calls on the EPA to strengthen the proposed Clean Power Plan to achieve more meaningful, attainable carbon reduction goals. In addition, it demands that support for dirty nuclear reactors and fracked natural gas be removed from the final Clean Power Plan.
You may edit the letter as you wish, or simply sign and send it, but do it TODAY. Thanks for adding your voice to hundreds of thousands of U.S. citizens calling for a green energy evolution NOW!
Email your comments to EPA today:
"EPA: DON'T NUKE THE CLIMATE"
NO NUKES Y'ALL!