EVENTS
THE PERFECT ANTIDOTE TO THE VOGTLE BLUES!
GET OFF THE GRID FEST 2019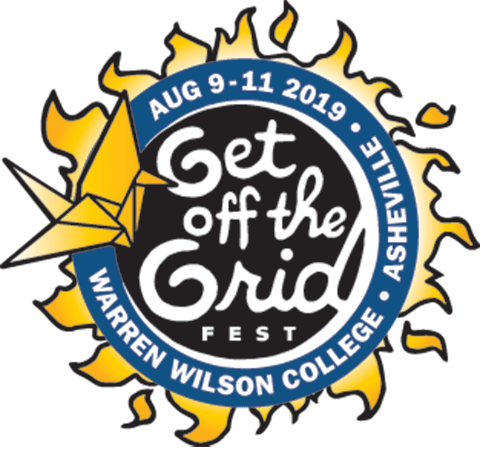 Join Rising Appalachia, Dave "The Green Cowboy" Freeman, Sol Driven Train and Nuclear Watch South
to celebrate solar, wind and community power
at a three-day solar expo and sustainability fair
in the beautiful Blue Ridge Mountains!!
---
HIROSHIMA/NAGASAKI OBSERVANCES 2019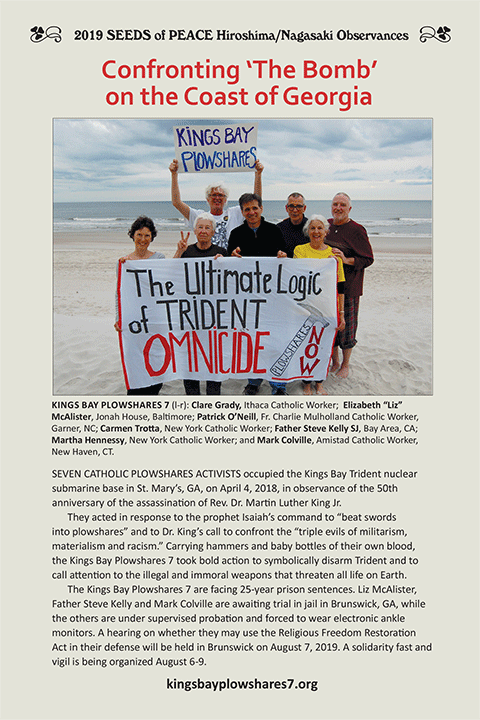 2019 CALENDAR OF EVENTS
BRUNSWICK / ST. MARYS EVENTS

August 6-9, 2019
A FAST FOR PEACE in defense of life and against nuclear weapons
organized by Voices for Creative Nonviolence and Kings Bay Plowshares
(fasting optional, details on kingsbayplowshares7.org)
Contact Kathy Kelly: kathy@vcnv.org, 773-619-2418

HIROSHIMA DAY
Tuesday, August 6, 8:15AM
KINGS BAY TRIDENT SUBMARINE BASE, St. Marys, GA
Peace Vigil at Stimson Main Gate, Kings Bay Trident Base, St. Marys, GA
(click for directions to Sugar Mill Park across the road from vigil site)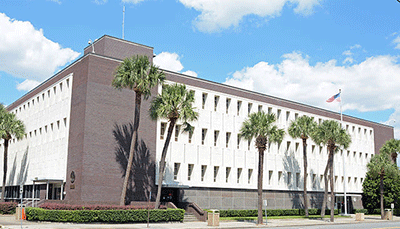 KINGS BAY PLOWSHARES 7 FEDERAL COURT HEARING
Wednesday, August 7, 8AM
U.S. DISTRICT COURT, 801 Gloucester Street, Brunswick
Solidarity fast / vigil concurrent with Kings Bay Plowshares 7
pre-trial court hearing

NAGASAKI DAY
Friday, August 9, 10AM-1PM
LEST WE FORGET
Nagasaki Vigil at Kings Bay, Stimson Gate
followed by community meal at Crooked River State Park

Contact Robert Randall, rrandall@compuserve.com, 912-399-4862


ATLANTA EVENTS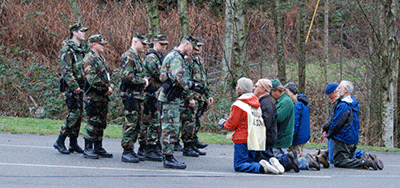 HIROSHIMA DAY
Tuesday, August 6, 6-8PM
THE NUNS, THE PRIESTS AND THE BOMBS
free screening and Atlanta premier of new documentary by Helen Young chronicling recent plowshares actions at Kitsap Trident nuclear submarine base
in Washington State and at the nuclear weapons complex
in Oak Ridge, Tennessee.
TOCO HILL-AVIS G. WILLIAMS LIBRARY
1282 McConnell Drive, Decatur



NAGASAKI DAY
Friday, August 9, 7PM
SEEDS OF PEACE
24th annual Nagasaki Observance
Bring your inspirations, grief, prayers, words,
dances and songs to create a circle of hope
CARTER CENTER ROSE GARDEN
441 Freedom Parkway, Atlanta

ALL EVENTS ARE FREE AND OPEN TO THE PUBLIC
Co-hosted by: Atlanta Peace Trails • Georgia WAND Education Fund, Inc. • Nuclear Watch South • Partnerships in Peace • Unitarian Universalist Congregation Atlanta (UUCA Peace Network and UUCA Humanist Fellowship) • United Nations Association of the USA, Atlanta Chapter

For more information contact
NUCLEAR WATCH SOUTH, 404-378-4263
---
Nuclear Watch South Joins National Coalition Hosting Citizens' Plutonium Forum
SRS Watch to Lead Discussion of Illegal Government Proposal to Manufacture Plutonium Weapons in Abandoned, Incomplete MOX Fuel Factory

Aiken Municipal Auditorium
7PM, June 14, 2019
Aiken, SC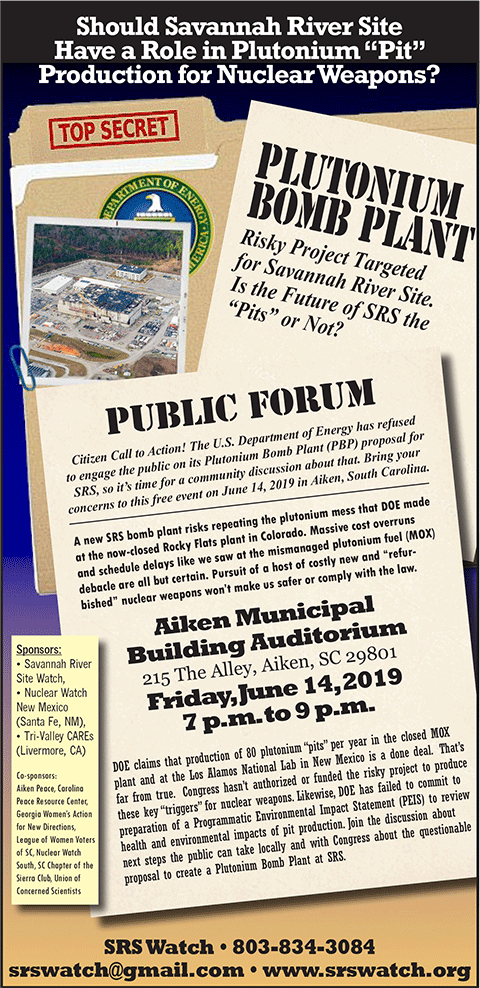 ---
FUKUSHIMA 8 OBSERVANCE: POWER LINES
Free Public Screening
Saturday, March 9, 2019, 1-4 PM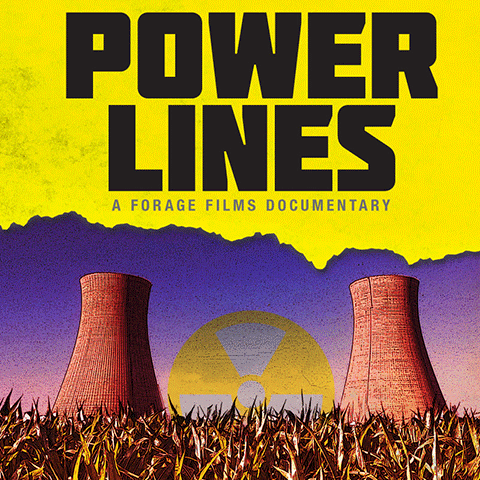 with keynote presentation from
ARNIE GUNDERSEN



NUCLEAR WATCH SOUTH and GEORGIA WAND invite you to a special FREE screening of POWER LINES in observance of the 8th anniversary of Fukushima on Saturday, March 9, from 1-4 PM at the Toco Hill Library in Decatur.
POWER LINES is a new short documentary about Vogtle 3 & 4 construction by Atlanta filmmaker Laura Asherman, founder of Forage Films. The film endeavors to educate Georgians about this little known Vogtle issue, so that as they pay their power bills each month or turn on their lights each day, they understand which lines of power dictate important aspects of their day-to-day lives.
Waynesboro, GA, and surrounding communities have a complex relationship with Plant Vogtle. With over 40% of the population living below the poverty line, citizens recognize the potential economic opportunity the additional reactors offer. Yet attached to that opportunity are environmental and health hazards, not to mention grave concerns surrounding serious flaws in the reactors' design. The film gives voice to concerned community members who feel they shouldn't have to sacrifice their safety or the health of the land they've owned for generations, just because powerful institutions decided to set up a dangerous camp in their backyard.
Following the short film, ARNIE GUNDERSEN, chief engineer of Fairewinds Energy Education will speak about Fukushima, Japan and safety concerns with the AP1000 reactor design under construction at Vogtle 3 & 4. Arnie is a nuclear engineer and whistleblower who appears in the film. He has traveled repeatedly to Japan where he is working with Japanese citizens to monitor for radiation from the Fukushima Dai-ichi meltdowns and we are honored to have him with us as we observe the 8th anniversary of the tragic Tohoku earthquake, tsunami and subsequent triple meltdown of the U.S.-designed Japanese reactors.
Additionally, local activists will give brief updates and presentations on Vogtle and Lindsay Harper, Georgia WAND's executive director will introduce the group's 2017 report Community Impacts At the Crossroads of Nuclear and Climate Injustices In the U.S. South. There will be ample time for Q&A and group discussion. Please join us!
Saturday, March 9, 2019, 1-4 PM

The Meeting Room
Toco Hill-Avis G. Williams Library
1282 McConnell Drive
Decatur, GA 30030

FREE AND OPEN TO THE PUBLIC
---
Atlanta Premiere ATOMIC HOMEFRONT
Free Public Screening of Oscar-Nominated Documentary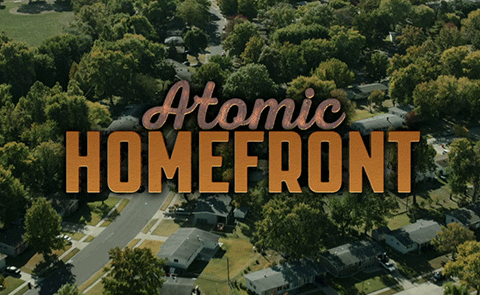 Saturday, November 10, 2018, 2-5PM
The Meeting Room
TOCO HILL-AVIS G. WILLIAMS LIBRARY
1282 McConnell Drive, Decatur, GA 30033
"A straightforward account of activist battles
over a frighteningly contaminated site."
— Hollywood Reporter
"Oscar-nominated filmmaker Rebecca Cammisa shows the effects
of the atomic era on the city of St. Louis, which was home to a uranium-processing center. Lax regulations led to contamination from radioactive waste throughout neighborhoods in North County, and the film follows the citizen-led movement to get to the truth and demand accountability."
— Metro.us The 11 Essential Documentaries of 2017
"ATOMIC HOMEFRONT is a both a fiery indictment of systemic inaction
and a tribute to the work of those battling for their families' safety.
Cammisa does a good job of establishing context for the current situations in Coldwater Creek and Bridgeton, as well as acknowledging the sense of urgency. She has directed a film that deftly balances the science behind what is happening in Missouri with the experiences — and emotions — of the residents.
The result should drive awareness and action in audiences."
— L.A. Times
Stick around after the film for snacks and
discussion about the nuclear state of Georgia
---
HIROSHIMA NAGASAKI OBSERVANCES IN GEORGIA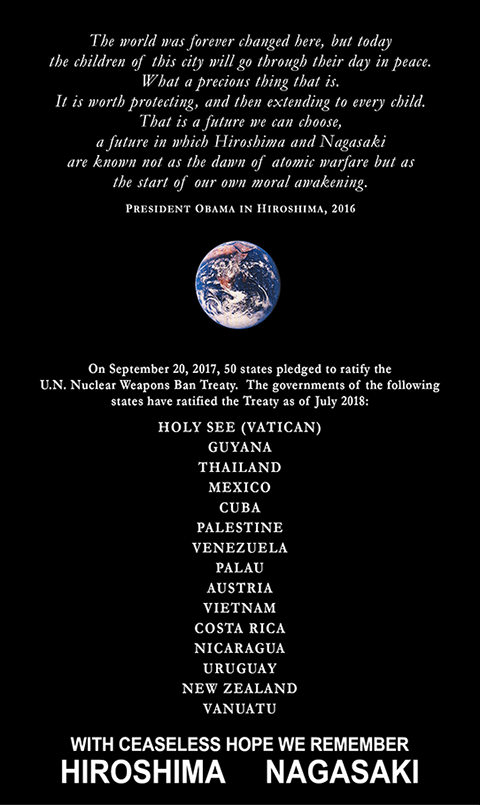 2018 EVENTS CALENDAR
Monday, August 6, 3-5PM
TRIDENT BASE, KINGS BAY, GA
LEST WE FORGET Peace Vigil
Stimson Main Gate, Kings Bay Trident Base, Kings Bay, GA
Directions: I-95 exit 3, Hwy 40E to Kings Bay Road to Stimson Gate
at Hwy Spur 40. Park at Sugar Mill Park.
Contact Robert Randall, rrandall@compuserve.com, 912-399-4862
Thursday, August 9, 7PM
CARTER CENTER ROSE GARDEN, ATLANTA, GA
SEEDS OF PEACE 23rd annual Nagasaki Observance.
Bring your inspirations, grief, prayers, words,
dances and songs to create a circle of hope.
Carter Center Rose Garden
441 Freedom Parkway, Atlanta
Contact Glenn Carroll, info@nonukesyall.org, 404-378-4263
September 3-14, SAVANNAH, GA
DISARM TRIDENT: Savannah to Kings Bay Peace Walk
organized by Voices for Creative Nonviolence and Kings Bay Plowshares.
Contact Kathy Kelly kathy@vcnv.org, 773-619-2418
ALL EVENTS ARE FREE AND OPEN TO THE PUBLIC
---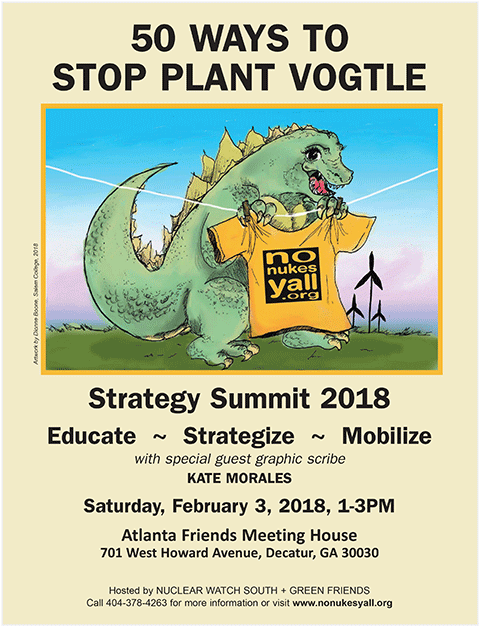 ---
Georgia premiere screening of CONTAINMENT
Nuclear Watch South observes 6th anniversary of Fukushima catastrophe 3/11/17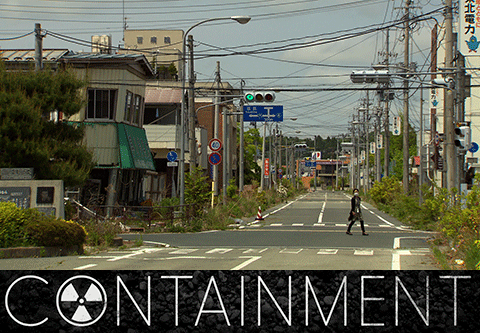 ATLANTA 3/11/17 How can we contain some of the deadliest, most long-lasting substances ever produced? Toxic remnants from the Cold War remain in millions of gallons of highly radioactive sludge, thousands of acres of radioactive land, tens of thousands of unused hot buildings, and  some slowly spreading deltas of contaminated groundwater. Governments around the world, desperate to protect future generations, have begun imagining society 10,000 years from now in order to create warning monuments that will speak across time to mark waste repositories.
CONTAINMENT moves from a nuclear weapon facility in South Carolina where toxic swamps have led to radioactive animals, to a deep underground burial site in New Mexico, to Fukushima, Japan, where a triple meltdown occurred after the cooling systems at the Daiichi Nuclear Power Plant were interrupted, leaving that city a ghost town. The film is part graphic novel and part observational essay mixed with sci-fi that is more science than fiction, weaving between an uneasy present and an imaginative, troubled distant future, exploring the struggle to keep waste confined over millennia.
FREE SCREENING
Saturday, March 11, 2017, 2PM
---
5th Annual NO NUKES Y'ALL JAMBOREE
Natti Love Joys headline Nuclear Watch South's monster fundraiser at Land Trust on Saturday, August 27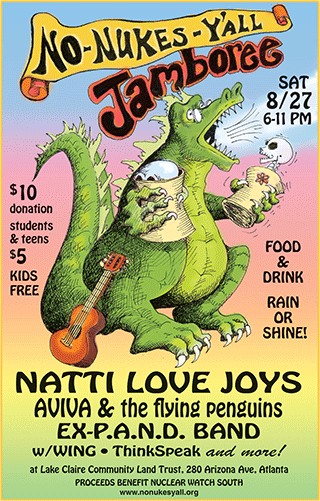 ATLANTA 8/27/16: The solar-powered days of August are here and it's time to give peace a dance at the annual fundraiser for Nuclear Watch South at the fabled Lake Claire Community Land Trust.
Reggae powerhouse Natti Love Joys will headline at the 5th annual Nuclear Watch South "monster fundraiser" on Saturday, August 27 with No Nukes Y'all JAMboree vets Aviva and the Flying Penguins and ever-loving rockers the EX-P.A.N.D. Band. The musical performances start at 6 and continue until 11PM. Earth poet Stephen Wing and songwriter/performer ThinkSpeak will also appear.
The Lake Claire Community Land Trust is a wonderfully unique setting for the annual dance party. Parking is a problem so if you must drive, park at the Clifton Road Presbyterian Church two blocks from the Land Trust. Seriously consider Candler Park MARTA station a short walk from the Land Trust. Please respect the neighborhood!
A donation of $10 is requested, $5 for students and teens, children are free. Refreshments will be available. "It takes a village" ... we need volunteers! If you would like to find out how you can help, please contact Nuclear Watch South's Coordinator Glenn Carroll at 404-432-8727 or at info@nonukesyall.org.
---
~ ~ ~

Nuclear Watch South is a 501(c )(3) tax-deductible charitable organization.
Please make your secure, on-line contribution to help spread the word.
We totally appreciate it!
To donate by check or money order, please mail to:
NUCLEAR WATCH SOUTH
P.O. Box 8574
Atlanta, GA 31106
THANKS!!!
NO NUKES Y'ALL!