ACTION CENTER | STOP NUCLEAR LOAN GUARANTEES
Tell President Obama: "STOP PLANT VOGTLE ~ Stop nuclear loan guarantees"
This ongoing action has been updated in response Congressional push-back on the loan guarantee default of a solar start-up company and urges the White House Office of Management and Budget stop the $8.3 billion loan guarantee which has still not been given to Southern Company. Even if you have written about nuclear loan guarantees many times before you still need to SEND LETTER TO STOP THE NUCLEAR LOAN GUARANTEE FOR VOGTLE REACTORS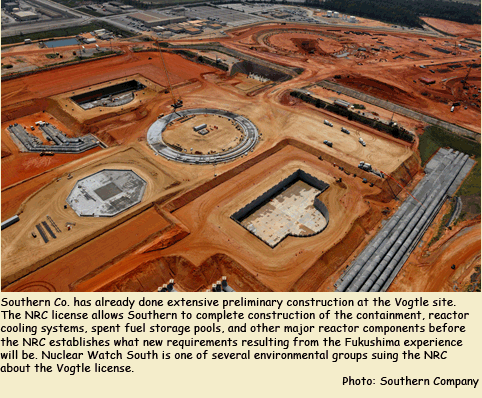 BACKGROUND On February 9, 2012, the Nuclear Regulatory Commission approved the first new reactors since the 1978 meltdown at Three Mile Island in Pennsylvania. Southern Company has now received the go-ahead to construct two new reactors at the Vogtle site near Augusta, Georgia. President Obama has already promised Southern Company $8.3 billion in tax-funded loan guarantees towards the $14 billion cost of the proposed reactors. The failure of Solyndra, a start-up solar company which defaulted on a $500 million Department of Energy loan guarantee, has launched Congressional and White House investigations into the DOE loan program which give us new opportunity to stop the loan guarantee to the rich and powerful private shareholder-owned Southern Company.
Southern Company is already applying to the NRC for dozens of design changes stemming in large part from errors in soil compaction studies which have caused the first layer of concrete laid — the basemat — to have a surface variance of 4" where only 1" variance is allowed. Two weeks later the NRC busted Southern Company contractors Shaw Industries for using substandard rebar, idling two dozen workers until further notice.
Government loan guarantees have a dismal history with a 50% default rate. Small loan guarantees recently given by the U.S. Department of Energy to fund alternative energies have defaulted already and Representatives Upton (R-MI) and Waxman (D-CA) demanded an audit of DOE's loan guarantees program which is currently under White House review. The White House is expected to finalize its review of the loan guarantees program very soon and make a decision on whether to give Southern Company the coveted $8.3 billion tax-funded loan at a rate of from 0% to .5% interest! Rep. Sensenbrenner (R-WI) is putting pressure on the White House to look very deeply before squandering more of the taxpayers' money. It is important to note that the defaulted loans that launched the investigation were far, far smaller than the nuclear loan guarantee to Southern Company would be.
The horrifying nuclear meltdowns unfolding in Japan underscore the importance of nuclear safety and infallible containment systems which are beyond the limits of human capability. NOW IS OUR TIME to press the point that we do not want nuclear power:
We want green energy for jobs and climate action NOW.
Please read and edit the message below, and send to President Obama TODAY. Your message will be sent straight to the President Obama with copies to Secretary of Energy Ernest Moniz, David Frantz who directs the Department of Energy's loan guarantee office as well as copies to Representatives Upton, Waxman and Sensenbrenner.
Representative Cliff Stearns (FL) is chair of the Energy and Commerce Oversight and Investigations Subcommittee investigating the DOE loan guarantees. He has said that nuclear is a proven technology and can't be compared to the failure of Solyndra. He wouldn't give an e-mail address to receive comments in his national capacity on the subcommittee but gives this phone number to receive comments: 202-225-2927.
PLEASE REMEMBER TO SIGN YOUR NAME AT THE END OF THE MESSAGE
NO NUKES Y'ALL!