STOP GEORGIA POWER
NUCLEAR RIP-OFF BILL ~ SB 31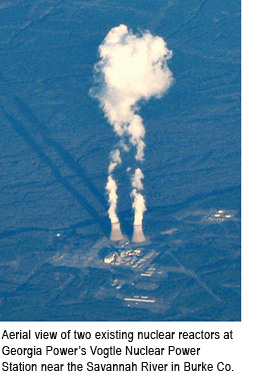 ACTION E-MAIL
STOP SB 31
GEORGIA NUCLEAR ENERGY FINANCING ACT
1. HIGHLIGHT text of letter below
2. COPY highlighted text
3. CLICK to find legislator
4. START E-MAIL
5. PASTE the comments into the e-mail
Put your legislator's name in the salutation. Give your e-mail message a good title like "Oppose SB 31." Add any additional comments or edit any way you like. Don't forget to sign your letter and include your mailing address!
E-MAIL YOUR ACTION LETTER TODAY!

Dear Honorable __________________________
I am very concerned about SB 31 "Georgia Nuclear Energy Financing Act" and ask that you oppose the bill which has been sent from the Georgia Senate for consideration in the House of Representatives.
The time for nuclear power has passed. Nuclear energy is a risky, out-moded, water-intensive, capital-intensive energy source that bankrupted Georgia Power and rate-shocked Georgia consumers in the 1970s and 1980s. Georgia consumers are ill-served to loan gigantic and wealthy Georgia Power $2 billion for a toxic, bloated, white elephant technology.
Even if you are unconvinced that nuclear power's time has passed, you should be aware that Georgia Power has been first in line with its hand in the taxpayers' and ratepayers' pockets since its recently renewed "interest in the nuclear option."
Federal government incentive grants enticed Georgia Power to enter into the nuclear licensing process just to "explore the nuclear option." Last year the Georgia legislature and Public Service Commission gave Georgia Power a $50 million advance to "further study the nuclear option." Georgia Power recently testified at the PSC that it predicts it will be at the head of the list to receive 80% cost recovery from U.S. taxpayers for being among the first utilities to begin new nuclear construction.
It should be noted that Georgia Power consistently pays handsome dividends to its shareholders and is at present exporting excess electricity to other states. It would be wrong to saddle Georgians with the risk and expense of unneeded nuclear power investments by the privately owned monopoly, Georgia Power Company.
Here are some other reasons to oppose SB 31:
~ SB 31 gives Georgia Power Company a blank check for any and all financing charges for new nuclear power plants.
~ SB 31 guarantees Georgia Power the right to collect from its customers 100% of its financing costs of expanding Plant Vogtle even though they cannot say how much the plants will cost, or if they will be built on time, or even if they will be built at all.
~ Georgia Power Company keeps the customers' money no matter what happens to the power plants.
~ SB 31 is an incentive to waste ratepayers money; money that could be used to invest in energy efficiency and more environmentally sustainable low-carbon technologies.
Nuclear power is a long-term, all-your-eggs-in-one-basket answer to an urgent, energy crisis — the need to produce nonpoisonous, abundant electricity. Wind power and solar power stand ready to serve — technology lending itself to rapid, decentralized installation. Free, natural fuel is a growth industry in uncertain economic times. The Georgia legislature would do very well to support Georgia Power in getting in step with the times and consumers' needs with a Georgia Renewable Energy Financing Act!
Energy issues are vitally important at this time in history for deep economic, environmental and social reasons. I appreciate your leadership in helping Georgia progress in ways that are helpful to its citizens.
Sincerely,
____________________________
____________________________
____________________________