PUBLIC COMMENTS NEEDED TO STOP
NUCLEAR WASTE REPROCESSING
The draft Programmatic Environmental Impact Statement on nuclear waste reprocessing (officially "GNEP" or "Global Nuclear Energy Partnership") has been issued. The U.S. Department of Energy is holding public hearings to gather public comments on the draft EIS.
The deadline to submit your comment has now been extended to March 16, 2009. This is good news as it places responsibility for any forthcoming official record of decision (ROD) authorizing action on this "Mother of All Boondoggles" with the incoming Obama administration who, it can be hoped, will overturn the ill-advised GNEP scheme of the Bush administration.
Here are some background materials and a sample letter to help you form and submit your comments:
Sample GNEP PEIS Comment Letter
This comment can be mailed to that address below or faxed to 1-866-489-1891
or emailed to GNEPTechDemo@nuclear.energy.gov

Mr. Francis G. Schwartz
GNEP PEIS Document Manager
Office of Nuclear Energy
US Department of Energy
1000 Independence Ave., SW
Washington, DC 20585
RE: Draft GNEP PEIS Comments
Dear Mr. Schwartz,
The Department of Energy's (DOE) proposed Global Nuclear Energy Partnership (GNEP), a program to restart nuclear waste reprocessing in the United States, poses a threat to local communities and to global security. Instead of pursuing this environmentally destructive, dangerous, and exorbitantly expensive GNEP program, DOE should store nuclear waste at reactor sites and safeguard it from terrorist attack.
The analysis provided in the Draft Programmatic Environmental Impact Statement (PEIS) is appallingly inadequate. Despite its legal mandate to analyze the full socio-economic and environmental impacts of GNEP, this PEIS does not include a complete life cycle cost analysis or fully addressing environmental or nonproliferation impacts. Furthermore, it inadequately addresses the full extent of health impacts from reprocessing.
Ignoring thousands of letters from the public and repeated requests from Congress, DOE has still not provided and this PEIS does not include a total lifecycle cost of GNEP, including all of the reprocessing facilities, fast reactors and fuel fabrication facilities required to fully implement GNEP. This analysis must include clean-up of the reprocessing facilities, as well as decommissioning of fast reactors and fuel fabrication facilities.
No analysis of GNEP's proliferation risks or impacts is provided. Instead, it states that the National Nuclear Security Administration is providing a separate nonproliferation assessment, but fails to provide any clear timetable for its release. For the public to fully assess the impacts of GNEP, a nonproliferation analysis must be included within the PEIS.
The PEIS inaccurately argues that reprocessing reduces the total volume of waste, and therefore, limits long-term health impacts related to disposal. This argument not only ignores recent independent studies that conclude reprocessing does not diminish the volume of waste, but also contradicts a previous section of the report that explicitly states reprocessing will not diminish the need for waste disposal. The Department of Energy must describe how it is going to manage and protect the public and workers from the many radioactive and hazardous waste streams that result from all phases of the GNEP plan. These wastes include, but are not limited to, strontium, cesium, radioactive lanthanides, technetium, uranium, and krypton gas.
Reprocessing is polluting, expensive, and a threat to U.S. national security. DOE should abandon the dangerous GNEP proposal and focus instead on safeguarding nuclear waste at reactor sites.
Sincerely,
~~~~~~~~~~~~~~~~~~~~~~~~~~~~~~~~~~~~~~
Sample letter courtesy Alliance for Nuclear Accountability. Visit www.ananuclear.org for more information on the dangers of nuclear waste reprocessing and how you can plug in to help.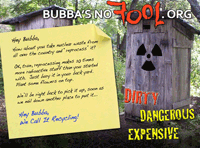 visit bubbasnofool.org
for extensive information on
nuclear waste reprocessing
~~~~~~~~~~~~~~~~~~~~~~~~~
SEND COMMENTS TO:
Mr. Francis G. Schwartz
GNEP PEIS Document Manager
Office of Nuclear Energy
US Department of Energy
1000 Independence Ave., SW
Washington, DC 20585

GNEPTechDemo@nuclear.energy.gov

~~~~~~~~~~~~~~~~~~~~~~~~~
FURTHER READING
THE REAL COSTS OF CLEANING UP NUCLEAR WASTE: A Full Cost Accounting of Cleanup Options for the West Valley Nuclear Waste Site
link to website for download

PRINCIPLES FOR SAFEGUARDING NUCLEAR WASTE AT REACTORS
link to PDF file
link to text file

TOP TEN TALKING POINTS ON THE ENVIRONMENTAL DEVASTATION CAUSED BY REPROCESSING HIGH-LEVEL RADIOACTIVE WASTE
by Kevin Kamps, Beyond Nuclear
link to PDF file
link to text file
RADIOACTIVE WASTES AND THE GLOBAL NUCLEAR ENERGY PARTNERSHIP
by Robert Alvarez
link to PDF file
NUCLEAR SPENT FUEL RECYCLING
by Robert Alvarez
link to PDF file
U.S. DEPARTMENT OF ENERGY GNEP HOME PAGE
link to website
ALLIANCE FOR NUCLEAR ACCOUNTABIILITY GNEP RESOURCES
link to website